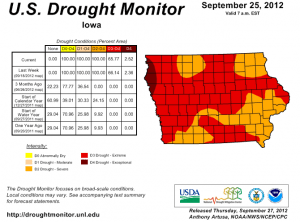 The latest drought map for Iowa looks very similar to the last few that have been released, showing no relief for the Raccoon River Valley.
According to the latest U.S. Drought Monitor, released this week by the National Climatic Data Center, the southern half of Dallas County and southeast corner of Guthrie County remain in a severe drought.  The remainder of the Raccoon River Valley continues to experience extreme drought conditions.
According to the National Weather Service, Perry has received 1.45 inches of rain so far this month, which is less than half the normal precipitation total for September.  Jefferson has had 2.05" inches of rain, which brings their total to under an inch less than normal.  And Guthrie Center has received two inches, compared to their average monthly total of 3.38 inches.