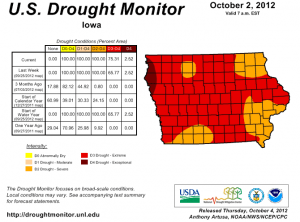 We've got some bad news as far as the drought conditions go here in the Raccoon River Valley.
According to the latest U.S. Drought Monitor, released by the National Climatic Data Center; Dallas, Greene and Guthrie Counties are all currently experiencing extreme drought conditions.  This is a change in condition for the southern half of Dallas County and southeast corner of Guthrie County who were classified as in a severe drought for the past few weeks.
According to the National Weather Service, during this first week of October, Perry received 0.02" of rain, where 2 ½ inches usually falls throughout the month.  Jefferson has received 0.06" so far, compared to their monthly average of 2.44 inches of rain. And 0.22" of rain fell in Guthrie Center this week.  They typically get 2.62 inches of rain in October.