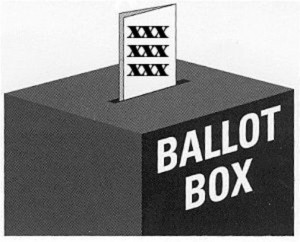 Voter fraud has become an issue that has brought about some discussion lately in Iowa.  Secretary of State Matt Schultz has begun investigating alleged voter fraud cases but has received criticism, the most vocal being from Democratic Senator Tom Courtney of Burlington, for spending federal money on the investigation.
Raccoon Valley Radio spoke with the Republican and Democratic Chairs for Dallas County for their opinions on the issue and how it may pertain locally.  Dallas County Republican Chair Mike Elam said while voter fraud has not been much of a concern in Dallas County, he and many of the Republican constituents he has spoken with support Secretary of Schultz's efforts to eliminate voter fraud.  "We are certainly in favor of things like voter ID," Elam stated, "things to try to eliminate any frauds that there may be.  You should have to show an ID to do something as important as cast your vote, especially in comparison to some other things that you're required to show an ID for that seem to me to be much less significant."
Dallas County Democratic Chair Dale Creech had a different take on the investigation efforts and said that he doesn't feel voter fraud is much of a problem in Iowa.  "The Secretary of State said he had questions on 3,500 voters registered," Creech points out, "And so far they have found 3."  Creech is referring to three individuals that were arrested in Pottawattamie County last month, two Canadian citizens and one Mexican citizen, for illegally voting in the last two Iowa elections.
Creech also stated that fraud investigations can actually bring about negative consequences.  "The process of voter fraud investigations and new laws generally are more voter suppression than voter fraud," Creech argued.
A few pointers for what you need on Election Day: if you registered to vote in person before the pre-registration deadline you do not need to bring any documents with you.  If you registered by mail you will need either an Iowa driver's license number or a Social Security number, and if you have neither of those you need to find the voter registration application online for more details.  After the pre-registration deadline you will need to provide ID and proof of address in order to utilize the Election Day registration procedure.
If you have any questions contact the office of your County Auditor, who is also your County Commissioner of Elections.