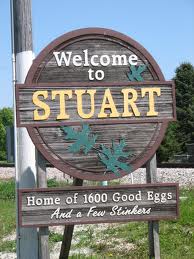 The Stuart City Council will meet in regular session Monday.
Items on the agenda include three public hearings in regards to the development with AI properties regarding the Old Hotel, approval of general obligation bonds in the amount of $865,000, and the North 2nd Street extension project.
The council will also consider a zoning change, hear form Tom Smull in regards to the depot project and history tax credits, presentations from Fire Chief Gary Fox and the police department.  A new member of the library board of trustees will be appointed, the annual Beggers' Night date will be set and Neal Crawford will present information on financing of equipment for the EMS, fire and police departments.
The meeting takes place at 5:30 pm in the Council Chambers at Stuart City Hall.