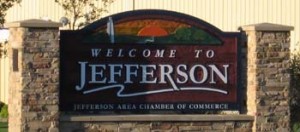 It's the home stretch in Jefferson, as this year's big construction projects are nearing completion.
The City of Jefferson plans to hold a ribbon cutting ceremony early next month to mark the opening of the new Highway 4 overpass.  Construction on the 1,100 foot long, $9.1 million bridge began back in March, and this fall crews are completing the two year project that allows motor vehicles to pass over trains on the Union Pacific Railroad.
The ribbon cutting event will take place Saturday November 3rd at 11am at the south end of the new overpass.  The public is invited to attend.