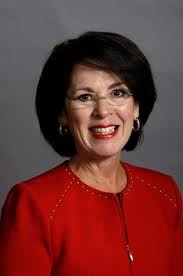 A Republican state senator who was seeking re-election this fall has died of cancer.
55 year-old Pat Ward of West Des Moines was diagnosed with breast cancer in 2009, she passed away in a Des Moines hospital Monday morning.
Ward was first elected to the Iowa Senate in 2004 and was running for re-election this year in the new Senate District 22.
Dallas County Auditor Gene Krumm tells Raccoon Valley Radio, Iowa Code states the November 6th general election ballots will remain as printed.  Votes cast for the Senate District 22 race will be tabulated but not canvassed by the state.  Instead, a special election will be held on December 11th with Democratic candidate Desmund Adams facing off against a Republican candidate chosen by party precinct committee members.
The Republican party will reconvene convention in the coming weeks and must nominate a candidate by Tuesday November 13th.