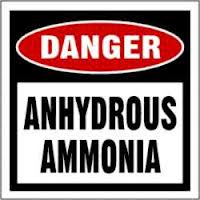 With farmers finishing harvest earlier this year, they are encouraged to wait until soil temperatures remain below 50 degrees Fahrenheit before applying anhydrous ammonia (NH3) fertilizer this fall, in an attempt to help reduce nitrogen loss and better protect the environment.
Historically, soil temperatures at a 4-inch depth cool below 50 degrees in the northern third of the state during the first week of November, and in central and southern Iowa, soil temperatures cool below 50 degrees during the second week and third weeks of November.
ISU Extension and Outreach maintains a statewide real-time soil temperature data map on their website that ag retailers and farmers use to determine when fall applications are appropriate.  A link to the map can be found on our website, RaccoonValleyRadio.com.
Farmers should also be mindful to pay special attention when applying anhydrous ammonia to very dry soil. Dry soil can hold ammonia, but if they are cloddy and do not seal properly, the ammonia can be lost at injection or seep through the large pores between clods after application.  Remember, your nose tells you if ammonia is escaping; a white vapor is condensed water vapor, not ammonia, which is colorless.
Farmers and applicators should assure proper depth of injection and good soil coverage when applying into dry soils. If following a round of application in the field the ammonia can still be smelled the applicator should make adjustments or wait for better conditions.
Guthrie County Extension Officer Carolyn Wilson says all farmers are familiar with this; they just need an occasional reminder.
Farmers with questions about timing of fertilizer applications can call the Guthrie County Extension Office at 641-747-2276 or their local ag retailer for more information.