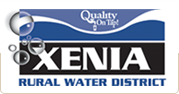 About a dozen Xenia Rural Water District customers attended a public meeting Thursday to discuss a proposed seven percent rate increase.
Only a few customers expressed concerns about the utility rate increase.  District Treasurer Tom Ballard says the seven percent is "middle ground" for the customers and their creditors.
According to a presentation given at the meeting, the district is currently $134 million in debt.  Including almost $128 million in long term debt, $2.4 million in bond insurance claims, $2.8 million in accrued interest and $1.5 million in other long term notes.  This total is more than 11 times Xenia's anticipated gross revenue for 2012
In addition, the district is also in default of having enough money in the "reserve funds" for the bonds and U.S. Department of Agriculture loan, liable for administrative and legal expenses from bond insurer Assured Guaranty Corporation – amounting to roughly $2 million.
Last year, Xenia negotiated a settlement with Bank of American to write off $7.6 million dollars in debt in exchange for a payment of $1.55 million.
Assured Guaranty has stopped trying to negotiate with the Xenia and according to court documents, they want the district's board of directors fired and their own management installed.  The board is doing everything they can to prevent the takeover from happening.
The proposed increase would take effect on January 1st, if approved by the board of director's at their next meeting on November 29th.