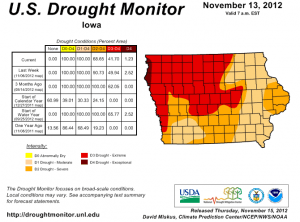 There's some good news for western Guthrie County residents as we continue to report drought conditions.
According to the latest U.S. Drought Monitor, released by the National Climatic Data Center Dallas, Greene and the majority of Guthrie County residents are still suffering from extreme drought conditions.  However, relief seems to be moving into the Raccoon River Valley as the western edge of Guthrie County has improved to a severe drought area.
According to the National Weather Service, Perry has received just under one inch of rain so far this month, which is half of their normal precipitation amount.  Jefferson has had less than one half an inch of rain so far this month, they usually get around 2.4 inches. And Guthrie Center has received 0.6 inches of precipitation, two inches less than the normal total for the month.