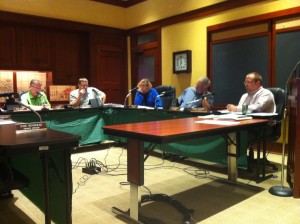 The Perry City Council met in regular session last night.
At the meeting the board Dr. Rob Denson with the Greater Dallas County Development Alliance spoke to the council and thanked them for their continued membership and Brad Scheib with Hoisington Koegler Group talked about their proposal to conduct a City comprehensive plan.  He outlined the proposed 9 month plan and Mayor Jay Pattee stated he hoped they could get things moving soon and be able to give the community a clear-cut picture on where things sit and what is planned.
Josh Shields with Bolton and Menk then provided a report on what has been done with the Community Development Block Grant money since the sustainability report.
Next Eric Tiernan from Stuart requested financial assistance for acquiring the Grand Theatre.  Tiernan and two others own the Stuart Freemont theater and are interested in purchasing the theater in Perry.  Tiernan says they've spoke with owner Robert Miller who is looking to sell the theater but will not budge on his set price point.  He said right now they're about $100,000 short of having the money to purchase the building and are looking for the city to become a partner.  Council members expressed interest in getting the theater back up and running to help keep people in and draw others to Perry.  Mayor Pattee recommended Tiernan works with City Attorney Dwayne Dalen to see if the theater is part of the bankruptcy and try to move things forward.
The council also approved a contract for backwash improvements to the McCreary Community center pool with Accu Jet in the amount of $21,200, approved pay request number two for the West 5th Street Improvements for $1,120 and approved a development agreement with Perry Economic Development for $66,000.
Next the Perry Municipal Airport's capital improvement plan was approved, along with an urban renewal report, approved certified Tax Increment Financing debt to send to the county auditor, transfered $175,900 in excess money from the sanitary sewer sinking fund to the operational fund and approved a plat of surveys for property owned by G.E. and Ethel May Roberts Family Trust.
A public hearing was set for the proposed re-zoning of property north of 3000 Willis Avenue.  It will take place during the next council meeting on December 3rd.  The council also scheduled a meeting prior to the regular 6pm start time to discuss potential expansion with a Perry business, that meeting is scheduled to start at 3pm on December 3rd.
Finally the council approved a variance permit for St. Patrick's School who plans to add 40 feet of fencing to keep children from running into the parking lots and alleyway. And after three officers have recently announced their resignation, the council approved the hiring of new offices to fill the vacancies.  Police Chief Dan Brickner says schedules have been adjusted through December so that they can make it through the end of the year and still provide adequate coverage, though they need to get officers hired as soon as possible.
For more on last night's Perry City Council meeting, tune into today's Profile Interview when we'll speak with City Administrator Butch Niebuhr at 9:30am on AM 1310 KDLS.