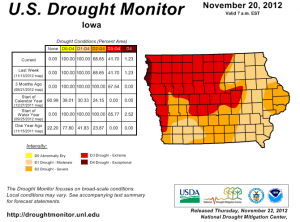 No real changes in the drought monitor this week.
According to the latest U.S. Drought Monitor, released by the National Climatic Data Center, all of Dallas and Greene Counties and the majority of Guthrie County residents continue to experience extreme drought conditions.  While the western edge of Guthrie County has improved to a severe drought area.
According to the National Weather Service, Perry has received 1.1 inches of rain so far this month.  Usually the city gets about two inches. Jefferson has had 0.4 inches of rain which is about two inches less than the normal monthly total and Guthrie Center has received just under 0.7 inches of rain, also almost two inches less than November's monthly total.