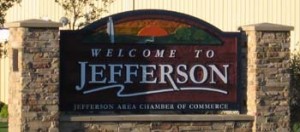 The Jefferson City Council will meet in regular session Tuesday.
Items on the agenda include awarding a construction contract to Sandstone Management for the Greene County Development Corporation's business park number 1 in the amount of $220,814.
The council will also approve a contract and performance and payment bonds for the business park project, approve the purchase of an automated fuel dispensing system at a cost of $15,831 and approve a resolution authorizing the submittal of the airport's five year capital improvement plan.
The meeting takes place at 5:30pm in the council chambers of the Jefferson City Hall.