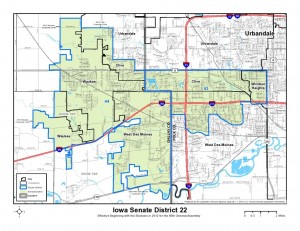 Even though the general election was just three weeks ago, some Dallas County residents will be heading back to the polls next month.
The special election for Senate District 22 will be held Tuesday December 11th, this is standard protocol if a party's candidate passes away before the election.  Pat Ward died of cancer back in October.
During a special nominating convention, Ward's husband John and five others sought the nomination.  The GOP selected West Des Moines City Councilman Charles Schneider to run against Democratic candidate Desmund Adams.
There are 17,184 registered Republicans in Senate District 22, along with 12,633 registered Democrats and 15,040 no party voters.