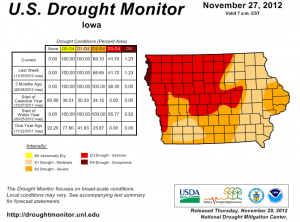 Our local drought conditions remain unchanged again this week.
According to the latest U.S. Drought Monitor from the National Climatic Data Center, All of Dallas and the majority of Greene and Guthrie Counties are still experiencing extreme drought conditions.  The western edge of Guthrie County and extreme southwest corner of Greene County has improved to a severe drought area.
According to the National Weather Service, Perry has received nearly 1.1 inches of rain so far this month – compared to their normal total of about two inches.  Jefferson is two inches behind their normal monthly rain total, only receiving 0.4 inches so far.  And Guthrie Center has received almost 0.7 inches of precipitation, which is also nearly two inches less than the normal November total.