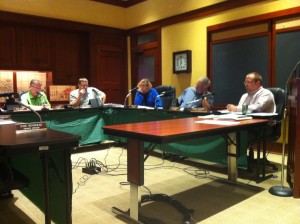 The Perry City Council has two meeting scheduled Monday.
The fiirst is a special meeting including a possible closed session to discuss the old middle school grounds.  It takes place at 3pm in the Clarion Room of the Security Bank Building.
Items on the regular meeting agenda include a public hearing in regards to proposed re-zoning of property north of 3000 North Willis Avenue, approval of a contact with Hoisington Koegler Group for the city's comprehensive plan, approve of additional yard waste disposal dates and procedures and authorizing fund transfers to close completed project funds and from the Local Option Sales Tax fund to the Debt Services Fund.
The council will also consider a resolution accepting the dedication of property for public street, discuss the Bike Co-op requesting available space, approve a cleaning services agreement for the public safety building and amend the residency requirements for Perry Police officers.
The meeting takes place at 6pm in the Clarion Room of the Security Bank Building.