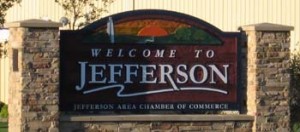 The Jefferson City Council will meet in regular session Tuesday.
Items on the agenda are an appointment of a new police officer, appointment of three new volunteer firemen and approval of pay estimate #8 of $155,763.67 for the Jefferson Downtown Restoration project.
The council will also consider approval of a wage adjustment for Park and Recreation Department personnel and they will discuss cancelling its last council meeting for the year due to Christmas falling on the 4th Tuesday in December.
The meeting takes place at 5:30pm in the council chambers of city hall.