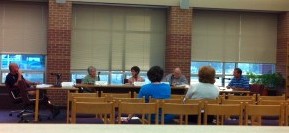 The Perry School Board met in regular session last night.
At the meeting the board heard reports from several 6th grade students who presented the projects they did as part of their presidential election project.  The projects were part of a pilot program where the kids had pen pals from Middleton, New Jersey and put together projects such as videos, websites and pamphlets.
Next Elyse Brimeyer, the district's director of teaching and learning, presented an update on the district in need of assistance plan and goals of understanding the Iowa Core Curriculum.  The Elementary Positive Intervention and Behavior Supports Team then reviewed their current building behavior data and shared information about the newly hired behavior coach.
The board then approved the dropout prevention application, board policy changes and six early graduation requests and personnel changes.
For more on last night's school board meeting, tune into AM 1310 KDLS Thursday morning at 9:30 when we'll discuss these items and more with Superintendent Lynn Ubben.