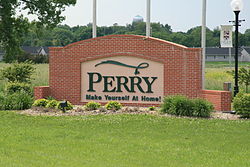 All Perry area community members are invited to share their input during a comprehensive plan workshop next week.
The purpose of the event is to explore the values and ideals that Perry residents hold.  Information gathered at the workshop will help planners develop an updated Comprehensive Plan that will establish the vision and principles that guide how the city will grow and change in the future.
The comprehensive plan process includes evaluating patterns and future changes in terms of land use, transportation, housing needs, parks, trails, recreation facilities and economic development.
The interactive workshop takes place Thursday April 4th from 6:30-8pm at the Town/Craft Center.
For more information visit the city's website, PerryIA.org or call Butch Niebuhr at 465-2481.