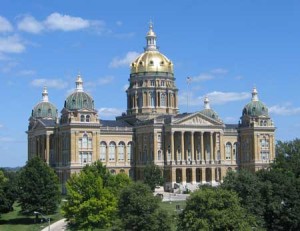 47th District House Representative Chip Baltimore and the Iowa House overwhelmingly passed a bill last week to keep the right to carry a firearm permit information confidential from the general public.
Representative Baltimore says a New York newspaper published information of individuals who have a permit to carry along with their names and addresses and he knew something had to be done in Iowa.  He states that publishing this kind of information is a concern for public safety.  Baltimore describes what the bill entails.
"So we put together a bill that simply said that for the general public this (permit to carry) is not going to be available.  But for law enforcement purposes, they can get access to that information as well.  It's a bill that received broad bipartisan support.  It passed on the floor of the House by a vote of 95-3, which tells you how universal that bipartisan support was."
Baltimore believes that with those kinds of numbers in the House, the Senate should have no trouble passing it along to Governor Branstad and signed into law.