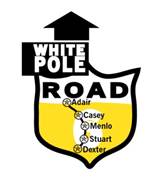 The White Pole Road Development Corporation announces the return of its popular Progressive Dinner but for only one last supper on Saturday, April 20 at 5:30 p.m. In honor of the night's new starting place, the menu will take on an Italian theme with each of the group's five towns hosting a different course for a five-course meal.  The public is invited to make some friends and toast to a fun night all along the White Pole Road.
Drinks and appetizers begin at Zipp's Pizzaria, 301 Audubon Street in Adair.  Dinner guests will then proceed east on buses to the Casey Visitor's Center for homemade soup, the Menlo Café for salad, the Saints Center in Stuart for the main entrée, and then finish the night at the Dexter Roundhouse for dessert.
Advance tickets are required and must be purchased prior to April 17th. The cost is $25 per person, which includes roundtrip bus transportation from town to town. Tickets can be purchased at Town & Country Insurance in Stuart (515-523-2026) or Fisher, Fisher & Groetken, P.C. in Adair (641-742-5231). Guests are also welcome to drive themselves or for those wanting to leave their cars in Dexter for the end of the night, a shuttle bus for Adair will leave the Dexter Roundhouse at 5 p.m.  SHARP!
Event organizer Liz Gilman understands that the people who've attended these in the past have had a blast, but says that after producing nine of these as a volunteer, she's ready to take a break.  Gilman gives the public fair warning that this year's dinner will be the last one for a while and if you're one of those individuals who have said "Oh, I want to do that sometime", now is the time.
For more information on this event and the White Pole Road Development Corporation, please visit www.whitepoleroad.com.