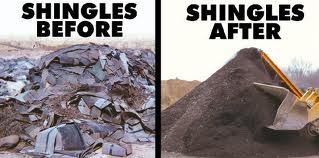 Earlier this year, Guthrie County Sanitarian Stephen Patterson discussed a shingle-recycling program for the county with supervisors.
Currently, old shingles taken from roofs are simply buried with other refuse at the landfill.
West Des Moines Barker Lemar Engineering conducted tests in seven area counties, including Guthrie, and found it economically feasible to recycle old shingles by grinding them up for use in road asphalt.  Five shingle recycling programs already exist in Iowa, but none in the seven counties tested.
According to Patterson, the federal government allows up to 5% of road asphalt and 20% of parking lot asphalt to be composed of recycled shingles.
Since the test estimated that up to 100 tons of shingles could be recycled in Guthrie County each year, at this week's Guthrie County Board of Supervisors meeting, Patterson recommended they sign on to become members of the new seven county shingle recycling organization Western Iowa Initiative.
The actual recycling plant is located in Sioux City where Endeavor Roofing Supply and Barkley's Asphalt are working together in project Save and Pave.
The concept is for Western Iowa Initiative landfills stockpile clean refuse roofing materials.  Endeavor will periodically stop by the landfills and pick up refuse roofing materials on their way back to Sioux City.  The trucks will drop the refuse shingles at Barkley's where they will be ground up and recycled into road and parking lot asphalt.
Patterson says the new organization is going to proceed regardless of Guthrie County's decision; it's just a question on whether we are going to be a part of it or not.
Patterson explained that entering into this program would basically be a break-even venture for the county.  After giving supervisors data indicating the worst-case scenario would cost the county only $260 per year, Patterson stated that recycling never makes money and he feels this is the most cost effective recycling the county can do.
Supervisors tabled voting on the proposal pending further investigation, but initial reaction seemed favorable.