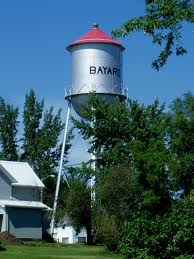 At the Bayard City Council Meeting last month, it was approved to refinance the new fire truck.  The move will lower the interest rate and, by making monthly payments, will save the city about $5,200 over the previous loan agreement.
Following an hour-long discussion with the public, in particular members of the Bayard Library Board, the Council approved the 2013/14 budget on a split vote.  The motion carried four to one with Bill Schmidt casting the dissenting vote.
Resident Jack Smith asked that rock be spread in the alley in the rear of his home on North Street.  The Council replied that they are currently reviewing streets and alleys, checking to see where problem areas are to make maintenance plans and assured Smith his alley would be checked out.
Council member Kathy Carstens advised she has reviewed the Windstream bill and made some changes.  She plans to see if Windstream will bundle the Library and City properties together.
Clean Up Days have been set for May 3 and 4.  A coupon will be placed in the paper for residents to allow one free pickup load of discarded items hauled to the landfill.  Three roll off containers will be rented at a cost of $260 each.
Water/sewer maintenance employee Jim Jones advised a motor went down on the sewer system.  Otherwise things are running smoothly.