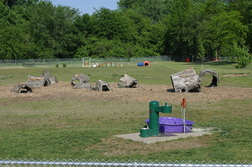 With the weather finally warming up, it looks like spring may actually be arriving.
Now is a perfect time to start making sure your pets get adequate exercise.  Perry area residents are reminded that the dog park is open and permits are required.
Abby Benefiel with the Perry Humane Society says the permits are $20 for the first dog and $10 for each additional dog and available at the McCreary Community Building.
And when you go to pick up a permit, Benefiel says you must make sure to bring proper documentation including papers that show your dog is up to date on his rabies vaccination.
Benefiel says the purpose of the permits is to make sure that people and dogs at the park are not in danger of catching any diseases. The park is open daily from dawn to dusk.