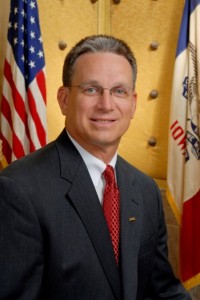 The Revenue Estimating Conference was held last week in Des Moines.
Republican State Senator Jerry Behn says the committee members were charged by Governor Branstad to examine what Iowa will generate for revenue in 2014.  Behn states that they are anticipating a $6.87 billion revenue which is slightly higher than what was predicted last December.
Senator Behn notes that this type of revenue is a good sign for Iowa that the economy is growing.
"A healthy ending balance means that we can fulfil all of our commitments.  We can fund our education system, we can provide healthcare for some of our most vulnerable and still provide for public safety."
However, just because the state has extra revenue, Behn and the committee feel that it doesn't need to spend it right away.  He explains two key factors to keep in mind.  One is that Iowa is known for not spending more than it takes in and the second factor is not to spend extra money on one time funds for ongoing expenses.
Iowa taxpayers make up over half of what the state spends while the rest comes from the federal government.  If the federal government reduces their funding, then programs in Iowa must be reduced or the taxpayers will have to pick up a larger share.
Senator Behn feels that Iowa is in good financial standing but you must always keep in mind budgeting principles.