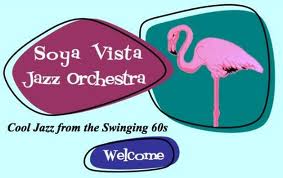 Get hip to the big band sounds at the Warren Cultural Center when the Soya Vista Jazz Orchestra takes the stage Saturday, April 13, 7 pm. This eight-piece ensemble specializes in the swinging, lounge-inspired jazz of the 1950s and 1960s. The band's repertoire features songs popularized by such artists as Frank Sinatra, Peggy Lee, Billie Holiday, and Henry Mancini.
Soya Vista's music is smooth, sophisticated, and hip. Warren Cultural Center Executive Director Ken Sidey explains that what began as a collection of songs put together for a Billie Holiday tribute has grown and evolved into a celebration of the Tiki-bar, Vegas-stage show inspired swing.  Sidey anticipates Baby Boomers will surely recognize many of these iconic songs, even if they don't recognize the names — Moon River, Night and Day, Theme from the Pink Panther, Route 66, and Days of Wine and Roses.
Tickets are on sale now at Ed & Eva's store, located at the Warren Cultural Center, 154 Public Square, Greenfield, and online at warrenculturalcenter.com.  Some premium seats remain in the front half of the auditorium and balcony for $30; standard seating is $20.
Sidey points out this is the final show in the Center's Premier Performance Series for 2012-2013, which has booked nationally touring acts on the restored opera house's stage. Performers for the 2013-2014 season will be announced soon, and season tickets will go on sale shortly after Sidey added.
For more information, or to purchase tickets, call 641-343-7337.