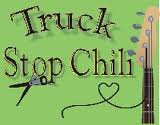 The Guthrie Center High School Drama Department invites the public to attend their presentation of Truck Stop Chili by Matt Myers on April 18 and 19 with each performance starting at 7:00 P.M. at the Guthrie Center High School.
Deep in the heart of West Virginia, there's a little hillbilly town called Gizzard, where you'll find Leroy's Clip n'Dip, the worlds first beauty parlor/auto garage.   Now, a few years ago, folks in Gizzard weren't exactly beating the Clip n'Dip door down, so to pass the time, Otis Hooper and his mechanic buddies, Crisco, Clyde and Floyd, started a band called Truck Stop Chili.
Otis' sweetheart Clementine and her beauty parlor pals, Mazola, Darlene and Helga, used to all grit their teeth, cover their ears and tolerate the racket until the day Hollywood director Mia VanZandt blew into town.  Mia wanted to use Gizzard as the location for her next masterpiece, Robert Rain 2, and she thought Otis would be perfect for a lead role.
What happens when a hillbilly mechanic/cowbell player like Otis "fergits who he is" and tries to become a Hollywood movie star?  And why does everything taste like chicken?  These are the questions that Truck Stop Chili asks, and the answers come only after the audience gets taken for a wild n'crazy ride through the hills of Gizzard, West Virginia.
Cast members include Patrick Ahrens, Anita Alvares, Taylor Bakes, Whitney Bates, Jared Calvert Olivia Chiado, Jamie Daggett, Therese Frels, Broderick Grizzle, Taylor Gruber, Adam Long, Taylor Louk, Gavin McGivney, Zoie Shook, Matthew Vannatta, Emma Wilson, Hannah Woods and Lizzy Woods.
The public is invited to attend.  Tickets are $5 for adults, $3 for students and are available at the door.