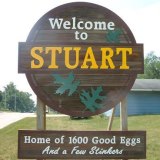 The Stuart City Council will meet in regular session tonight.
Items on the agenda include a presentation by Bob Cook regarding Scoop the Loop Night and the City Website.  Forrest Aldrich will give a presentation regarding the truck route on S 7th Street, Mid American Request on the 2nd Street extension to the High School, final plat and covenants on seed and the Wambold Project, pay estimate for excavating in the amount of $73,695.30 for the Wambold Project and the commercial permit proposal by Veentra and Kimm.
Other items on the agenda include the approval of a liquor, beer and wine permit for Foxy's Den, approval of the fire truck, police, rescue and EMS building and funding review, approval of a development agreement amendment between the City of Stuart and the Old Hotel and approval of the application for Region 12 RPA grant regarding surface transportation program on Division Street.
The meeting takes place at 6:30 P.M. in the council chambers of the Stuart City Hall and is open to the public.