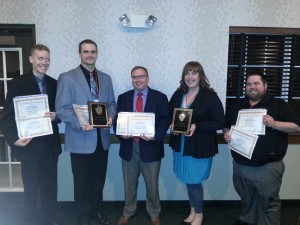 Raccoon Valley Radio put itself on the statewide map this past weekend at the Iowa Broadcast News Association's annual convention in Johnston.
The day long conference capped off Saturday evening with the organization's annual dinner and awards ceremony.  Raccoon Valley Radio came home with the title of best small market radio station in the state with the Overall Excellence award, along with winning the Best Newscast category.  The station took home seven other awards with Samantha Smith earning second place Overall Excellence in Anchoring, Overall Excellence in Reporting and Best Feature, along with 3rd place in Spot News Coverage, Use of Actuality and Farm and Agribusiness.  Shawn Kenney also received honorable mention for his sports play-by-play submission.
Raccoon Valley Radio General Manager John McGee says it's exciting to be recognized by our peers in the broadcasting industry.  The Overall Excellence award is something McGee says we "definitely weren't expecting in our first year being here, but if definitely shows the dedication and hard work that both Samantha, Shawn as well as our entire team here at Raccoon Valley Radio puts in".  He says winning awards like this is affirmation that the station is doing the right things and is committed to serving the people of our communities.
IBNA is a nonprofit corporation of radio and television news directors, reporters, producers, public relations professionals and others from Iowa and its adjacent states, working together to improve electronic media news for our stations and the public.
For more on Saturday's events and reactions from the staff members, tune into tomorrow's Let's Talk Dallas County on AM 1310 KDLS during the 9am, noon and 5pm hours.