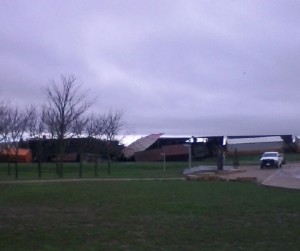 Two Union Pacific Railroad trains were involved in a derailment near Grand Junction this morning.
Greene County Sheriff Steve Haupert says that an  eastbound train on the north tracks from Western United States was carrying coal and a railroad official believes either a broken rail or a mechanical issue with a broken steel wheel caused eight to ten coal cars to derail and slammed into a stationary westbound boxed cargo train on the south tracks.
Altogether, Sheriff Haupert reports that there were 12-15 cars that were severely damaged in the accident spilling contents about one mile east of Grand Junction.  He states that part of a bridge also suffered damage.
Sheriff Haupert comments that this kind of accident will make it difficult for trains to travel through Greene County for a while.
"That'll back up trains probably all the way to Western Iowa because this is going to close down both tracks.  So until they (Union Pacific) get it cleaned up, rail traffic on the UP through Greene County will not exist."
There were no injuries in the accident and the intersection of county road P-46 by Grand Junction will remain closed with Union Pacific cleans up the mess.
The cause of the accident remains under investigation.