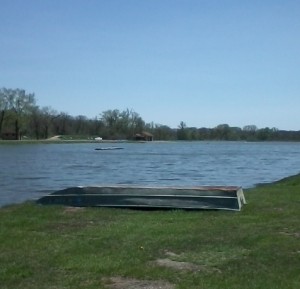 An accidental drowning at Spring Lake Park in Greene County claims the life of a three year-old boy.
Greene County Sheriff Steve Haupert says Ransom Lewis Cummings, of Jefferson, had wandered off to the east side of the beach area on Tuesday afternoon and fell off the edge of a dock and into the water.  Sheriff Haupert states that Ransom's mother and two siblings were on the beach area.  She called County Conservation and Parks personnel to report her missing child.
At 1:14pm, the Greene County Sheriff's Office, Grand Junction Fire and Rescue and Greene County Emergency Medical Services were dispatched to the scene.  Sheriff Haupert says that Chief Deputy Jack Williams and Grand Junction Fire and Rescue spotted Ransom six feet away from the dock and in five foot of water.  He describes the rescue effort.
"There was Greene County Sheriff's Office, Grand Junction Fire and the Greene County Conservation Parks personnel were all in the water, with their clothes on.  And someone did retrieve him a little ways off the dock and he was brought out, CPR was performed (and) he was transported immediately to the Greene County Medical Center."
Ransom Cummings was pronounced dead after arriving at the medical center.  Ransom is the son of Chad and Emily Cummings.