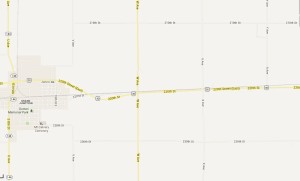 More details have been released about the vehicle versus train accident near Grand Junction last night.
Greene County Sheriff Steve Haupert says that just before 10pm Sunday, 52 year-old Kristina Becker-Duroe of Coon Rapids was traveling southbound on X Avenue heading toward Highway 30 when railroad crossing arms came down signaling a train was coming.  Sheriff Haupert states that Becker-Duroe went around the crossing arms and was struck on the passenger side by a Union Pacific train traveling east.
Haupert comments that Becker-Duroe's 2000 Mercury Sable was pushed by the train for 566 yards before the vehicle left the tracks.  She was pronounced dead at the scene.
The accident remains under investigation by the Iowa State Patrol.
Raccoon Valley Radio will bring you more information as it becomes official.