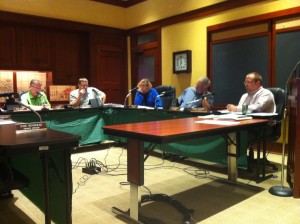 The Perry City Council will meet in regular session this evening.
Items on the agenda include information on a City Wide clean up June 22nd, a special presentation from Dallas County Board of Supervisors Chairman Mark Hanson and a public hearing on the status of funded activities for the Owner Occupied Housing Rehabilitation Program.
The council will then consider an agreement with Iowa fifth judicial district for a local magistrate, approve a pay estimate for the North Street sanitary sewer project, consider a request from Perry Little League to construct a new concession stand, approve a memorandum of understanding with SERT in regards to the firing range and consider an amendment to the shared firing range agreement.
New business items on the agenda include a request from the Hiawatha Amateur Radio Club to use Pattee Park after hours, a grant application with Iowa Heartland for trail signage, approval of purchase and installation of improvements to the lift station and approval of the annual 4th of July fireworks display.
Finally the council will consider amending the city ordinance in regards to trees and tree trimmings.
The meeting takes place at 6pm in the Clarion Room of the Security Bank Building.