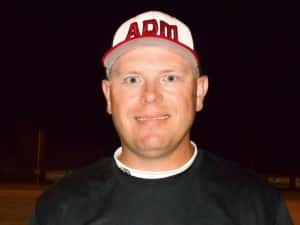 The ADM baseball team closes out the conference regular season with a thrilling 2-1 victory over Boone in eight innings last night in Adel.
Making just his second start of the season, sophomore Chase Eddie pitched like a season veteran going eight complete innings, allowing one run off six hits while walking one and striking out seven.  He entered the game with eight total strikeouts for the season.
Head coach Jason Book talks about his young starter and how impressed he was with his performance on the mound.
"Yeah that was a great, gutsy performance.  We know he can throw, he just hasn't had very many opportunities and we felt like tonight he was the perfect matchup to see what he could do and man, he was nails tonight."
After tying the game in the fourth inning, the ADM Tigers scored the winning run in the bottom of the eighth after leadoff man Grant Goeden started the inning with a double and then went to third on the bunt from senior Jordan Grove when Boone's starting pitcher Alex Davis went to third on the fielder's choice and overthrew third which allowed Goeden to score the go-ahead and winning run.
Aside from pitching, ADM's defense turned two pivotal double plays in the sixth and seventh innings to keep the Toreadors from scoring while committing zero errors in the field.
The Raccoon River Conference regular season champion ADM Tiger improve to 15-1 in conference and 24-8 overall and are off tonight and will be back in action tomorrow at number seven in Class 2A Ogden starting at 7:30pm.