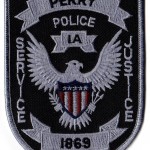 A bank robbery suspect from Perry took his own life early Saturday morning after several law enforcement agencies surrounded his home shortly after 10 o'clock last night.
According to the Dallas County Sheriff's Office and the Perry Police Department, 25 year-old Caleb John Anderson of Perry, was identified as the suspect in the robbery of the Raccoon Valley Bank in Minburn yesterday afternoon at approximately 3:45pm.
According to a joint news release, the departments say a suspect entered the bank with a weapon and demanded money. No injuries occurred during the robbery, but the suspect did leave the bank in a green Toyota Corolla with an undisclosed amount of money.
Following an investigation involving the Dallas County Sheriff's Office, Perry PD, the Federal Bureau of Investigation and the Division of Criminal Investigation, Anderson was identified as the bank robbery suspect when authorities found his green Corolla outside of his Perry residence at about 10:22 Friday night.
Once authorities converged on Anderson's home, a negotiator was brought in to try and talk him out of the residence, but after several hours, talks ended.
A Special Emergency Response Team then entered the residence at approximately 2:15 this morning and found that Anderson had killed himself.
The Dallas County Sheriff's Office and Perry PD say a search warrant of the house and vehicle are being obtained in an attempt to locate the stolen money and the weapon Anderson used in the robbery.
Raccoon Valley Radio will bring you more information as it becomes official.