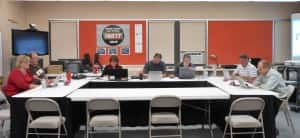 The Jefferson-Scranton School Board of Directors met last night in regular session.
The Board recognized Cheryl Ellsworth for her ten years of service to the district and accepted her resignation for retirement.
During the district reading update, Julie Neal, the district reading specialist said they selected 30 students to be a part of a reading intervention program this year and after 30 days, they will re-assess those students to see if changes need to be made for them to be proficient in reading.
She pointed out that they will also introduce a new tutoring program on Wednesdays after school for Title I students to receive extra help with reading.
The Board approved two fundraising requests from the accelerated government class to sell bracelets to benefit starving kids in Honduras and raising money for the Christian Action Resource Center.
The Board also approved advertising to sell a 1995 Ford F-250 pick up truck with a snow blade attachment.  Board policies were also approved to change Arrowhead AEA to Prairie Lakes AEA and add color, gender identification, religion and age to the list of schools not being allowed to discriminate against different people's backgrounds.
Superintendent Tim Christensen finished the meeting saying that the district will soon start to advertise for an assistant principal and activities director position for the 2014-15 school year.