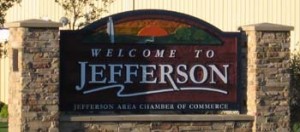 The annual Steven Silbaugh Memorial Wrestling Tournament is this weekend in Jefferson.
Parks and Recreation Director Vicky Lautner says it will be at the Greene County Middle School gymnasium with weigh-ins starting at 8am.
There are five age divisions from prekindergarten through eighth graders.  Weigh-ins for pre-K through second grade is from 8-9am and everyone else is from 10:30-11:30am.  Entry fee at the door is $15.
Lautner notes that this is a fundraiser for the youth wrestlers and she points out that all the funds go to getting the participants wrestling gear that's needed for them to be in the tournament such as singlets.
She talks about the other benefits that this tournament has for the community.
"I think this is a good thing for Jefferson, we get people into Jefferson.  And this tournament, last year, we had a lot of comments on how well it was ran and this is a good tournament to have your kid wrestle and then be able to leave, it's not an all day thing."
The tournament is ran by Todd Hansen and trophies will be given to first through fourth place finishers in each age division.  The tournament takes place this Sunday and walk-ins are welcome to participate.