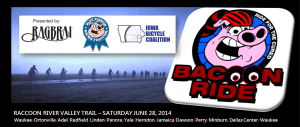 Now that BRR has come and gone, Perry is working on another bicycling event this summer.
As we told you last week, the BACooN ride makes its debut this summer on the Raccoon River Valley Trail.
Perry Area Chamber of Commerce executive director Bob Wilson says the goal is to make Perry the best stop along the 72 mile loop.
"We're going to set up in Perry, basically the big party.  We're going to make sure everyone has the most fun, and the longest stay in Perry.  It's an exciting event, it's a no brainer.  People love bacon, they love beer, they love to bike.  It's a great opportunity to get people on this trail, and it's an event unlike anything else so far, there's no total loop event.  So we're excited to be a part of this" says Wilson.
And the goal is to bring as diverse a group as possible to Perry.
"This is just another way to bring a great demographic of the younger crowd of cyclists into Perry.  And when we do that we're hopefully going to do a beverage garden, some bands, some fun stuff with pigs or whatever we can do so we're just going to make it as weird and exciting as possible to get people to remember Perry and get them to come back."
The event takes place Saturday June 28th.  Registration is now open, for more information CLICK HERE.