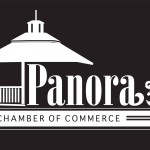 The Panora Chamber of Commerce met yesterday for its March session.
Cheryl Castile began the meeting to recap Sunday's bridge tournament fundraiser.  Castile called the event a success, especially considering it generated a $300 profit while using minimal time and expenses for setup.  All of the funds raised will go into the Chamber's Panorama Days fund.
Castile then spoke to fellow Chamber members about the latest regarding City of Panora banner holders.  She is still awaiting price estimates, but also voiced her belief that Chamber needs to approach City Council to be sure it's on board with putting up new banners in town.  Castile will approach the City before its next meeting.
Next, President Lou Guzman talked about the diabetes class he's put together for Saturday, April 12th, from 9am to noon at the Community Center.  The Panora Lions Club is sponsoring the diabetes education course, which will feature three area medical professionals as speakers.  The event is free and open to the public, through free will donations will be accepted for the preceding breakfast.  Funds raised will be used to send area youth to Camp Hertko Hollow, a summer camp for kids with diabetes.
Panorama Days Executive Director Chaille Crandall then addressed the Chamber to discuss the possibility of purchasing a new banner and new sound system for the town's major celebration.  After opinions were shared, the Chamber agreed to hold off on a new banner until next year, but a new sound system will be purchased in advance of this year's Panorama Days.  Crandall estimates the cost will be between $2,200 and $2,500, but the system will be portable and easy to use for other events and functions in Panora.
Crandall then spoke to the Chamber about the BACooN Ride, a new biking event on the Raccoon River Valley Trail that will make its way through Panora on Saturday, June 28th.  The Chamber discussed either bringing in bands or simply playing music during the event as bikers come through town.  The topic will be revisited during the Chamber's April meeting.
Finally, the Chamber sifted through and complimented the new Panora brochures that Crandall worked to put together.  The brochures were printed last month and will be distributed throughout town in the coming days.
The Chamber will next meet on Monday, April 21st at Breadeaux Pizza.