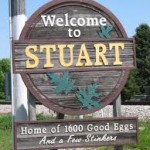 Stuart's Good Egg Days Celebration is still about three months away, but don't tell that to event coordinator Shannon Behnken.
She's already been working with her committee to set up the always popular celebration this June, and while there will be classic events such as the 5k run, scavenger hunt, tractor pulls and a street dance, Behnken says she's also working to add something new to this year's schedule.
"We are going to try and get the boy scouts involved–Pack 167–to do a flag presentation for the national anthem.  They'll start out leading the parade this year with a big, huge flag."
With Good Egg Days still a while out, Behnken says she is looking for area residents to voice any opinions they might have about this year's event.  After all, for Behnken, community involvement is what makes Good Egg Days so special.
"We do like to get as many people as we can to volunteer time.  Anybody that has any ideas, it'd be great to have you show up at one of our meetings to give us fresh ideas.  Anything that we can do to change things up each year, we're more than happy to do."
Good Egg Days will be in its 53rd year in June.
The theme for last year's celebration was "Expanding Our Horizons," but Behnken hints that the theme for this year will be a look back at the "good 'ol days" of Stuart.