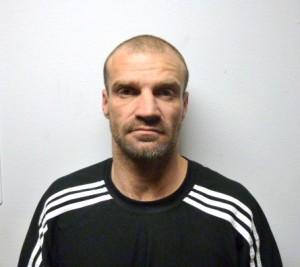 An almost two week investigation ended an arrest of a suspect from stealing a vehicle in Jefferson.
Police Chief Dave Morlan previously told Raccoon Valley Radio about an incident involving a vehicle theft reported on Monday, March 10th when the Perry Police Department reported of an alleged male subject that drove off without paying for gas at a Kum and Go gas station in Perry.  Later, an officer found the vehicle in the 115 South Wilson Street in Jefferson, which when the owner was contacted, the owner said the suspect had taken the vehicle without consent.
This past weekend, 40 year-old Frederick James Lonsdale of Perry was arrested and charged with a Class D Felony for third degree burglary, an aggravated misdemeanor for operation without the owner's consent and simple misdemeanors for driving with a suspended license and failure to give notice of an address change.
He remains in the Greene County Jail on a $25,000 bond.