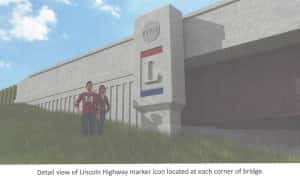 The Iowa Department of Transportation has rescheduled its public forum for the two proposed bridge projects in Greene County to April 1st.
The original date was February 20th but it had to be rescheduled due to severe winter weather.
Field Service Coordinator Andy Loonan says the two bridges that they will be demolishing and replacing in 2018 are on Highway 30 over the West Beaver Creek and the Union Pacific Railroad crossing at 222nd Street east of Grand Junction.
He states that this is an open public meeting to allow all comments from people about their concerns or ideas about the projects.  Loonan comments that both 1957 bridges have reached their lifespans and will need to be replaced by 2018.
When construction happens, a detour will be in effect and motorists will be encouraged to use Highway 144 to County Road E-26 to Highway 169.
It will be at the East Greene Elementary School cafeteria from 5-6:30pm on Tuesday, April 1st.  You can contact the DOT office for more information at 515-239-1635.