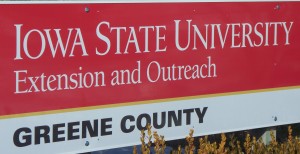 It is ISU Extension and Outreach week this week and everyone is invited to an open house at the Greene County Extension office in Jefferson tomorrow.
Coordinator Michael Cooley says their open house will be from 11am-2pm on Tuesday, March 25th.  He adds that it's a time for people to see what kinds of services the extension office offers to the public such as family financing, agriculture and natural resources, mentoring, gardening and landscaping and the 4-H and youth programs.
Cooley comments that he's very appreciative of the support that people of Greene County have shown to the extension office.
"We just want to thank all the citizens, many volunteers as well that help make it possible.  Each year in Greene County Extension our programming impacts directly over 1,000 youth and adults in the county and so we're really happy, given our population, to be able to have that kind of impact with several program accomplishments that we've done."
There are about 185 4-H'ers in the county with another 30 kids involved in the third grade program called Clover Kids.  The Greene County 4-H Foundation helps to donate $3,500 every year for scholarships for 4-H'ers to go on trips or for activities.
Cooley points out that during their open house, the public can enjoy free hamburgers grilled by the Greene County Cattlemen's Association along with chips and beverages.  There will also be door prizes as well.
Call the extension office for more information about their programs and services at 386-2138.