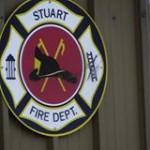 He's been a volunteer for the Stuart Fire Department since he was 16 years old, and now, he's about to be its new head man.
Starting in April, Mike Renslow will take over as Stuart's Fire Chief and needless to say, he's excited.
"Growing up being around it and… we've had a lot of good leaders here in our department so I'm trying to be one of those.  I've been an officer the past few years and have just been working my way up to be in this position.  So yeah, I'm very excited for the position and I hope to keep the department progressing forward."
Stuart Fire is part of Renslow's blood.  His father, Cliff, was the fire chief in town as he was growing up, and that certainly had an impact in allowing Mike to develop a passion for keeping his community safe.
"My dad influenced me a lot.  He actually started the junior firefighter program to help with the recruitment and retention of younger people, keeping them in the community and keeping them in the department to help out.  He put a lot of commitment into the department over the years, so yeah I did learn a lot from him on how to handle situations, how to keep people involved and how to help our community."
With Renslow about to become the new Suart Fire Chief, there is a new group of officers as well.  Jim Henderson will be the new assistant chief, and Cliff Renslow will serve as official past chief.
The department's two captains will be Austin Van Laningham and Kelly Surber, while the newest lieutenants will be Bill Denning and Josh Allsup.