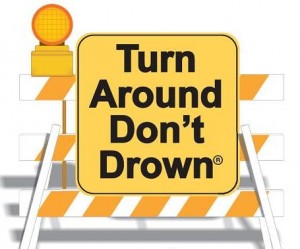 Today kicks off the first day of Severe Weather Awareness Week, and the Raccoon Valley Radio network will be bringing you tips and information on a new topic each day.
Monday's focus is flash flooding, which is defined as a rapid rise of water along a stream or low-lying urban area.
Dallas County Emergency Management Coordinator Barry Halling says it's important to use common sense when it comes to flash floods and make sure you know what you're driving into.
"It doesn't take much water to move a car, to take it off center, to twist it around.  So 'Turn around don't drown', the theme (The National Weather Service) uses for flash flooding is very applicable in this situation.  Night time, if a flash flooding event takes place, flash flooding and those things are hard to see so kind of know in your area, where will this happen?  Where do I have a creek?  Where do I have a low spot that could affect me?" says Halling.
According to the National Weather Service, more deaths occur due to flash flooding annually than any other thunderstorm related hazard.  All it takes is 6 inches of fast moving water to knock you on your feet and two feet of water can float a car.