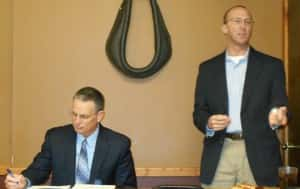 15 Greene County residents were on hand Saturday to discuss state government topics with Representative Chip Baltimore and Senator Jerry Behn at the Pizza Ranch in Jefferson for the first Pizza and Politics event of the year.
Chairs of the respective political parties for Greene County, Roger Olhausen for the Republicans and David Morain for the Democrats made the initial introductions.
Representative Baltimore first spoke about the overall budget for fiscal year 2015.  He said that there is a $7 billion general fund balance with 54% of it going toward education.  Meanwhile, his two committees he serves on, judiciary and the justice system, make up $900 million of the overall budget and that he has to work within those parameters for the next year's budget.
Senator Behn initially spoke about the joint budget targets being released earlier this year which didn't happen until after May last year which shows a bipartisan agreement to get the budget done earlier than expected.
Both then took questions from the audience which covered a wide-range of issues dealing with education, tax reform, reforms for educating the skilled workforce and the governor's Home Base Iowa Initiative.
Morain told Raccoon Valley Radio that he's pleased with how the event went and added how crucial it is for people to show up and get facetime with elected officials no matter what political party you belong to.
"It really doesn't matter what party line you tote, whether it's Democrat or Republican.  There's so much more that unites us than divides us, I think that it's great that they (Behn and Baltimore) can come over here and that everybody has the ability to come out here and ask them questions and hear them out."
No other dates have been set for another Pizza and Politics in Greene County for this year.