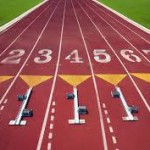 Conditions were far from ideal for the ADM girls track team during their first outdoor meet of the season at DC-G on Monday night, but hey, at least they were finally outside.
Head coach Bart Mueller reflects on his Tigers' experiences from Monday night, a night in which temperatures dipped into the 30s by meet's end and runners had to deal with some 25-30 mph wind gusts.
"It was quite an experience.  It was… how the conditions usually are early season so we've dealt with this before.  Just another one of those meets where you end up getting there and realizing, 'well, it is good to get some races in, but it's going to be tough to hit some top times or some times to qualify for Drake'.  So you adjust, and say, 'tonight is more of a workout, let's get the races in… we're at least outside so let's take one step forward in the season'."
Despite most ADM girls having to run under difficult circumstances, a few individuals did benefit from having the wind at their back in certain events.  In fact, Coach Mueller says there were a few personal records set during Monday's meet.
"One group that benefited were the long jumpers.  They jumped with the wind, and Madi Bertman and Sydney Bertman–the sisters–took advantage of the conditions.  Both jumped personal records.  Sydney ended up over 16 feet; I know Madi jumped over 16'11", which just smashed her PR by about 10 inches.  I was looking and last year, that (jump) did qualify for Drake, so she may have–on a tough night for a lot of people–taken advantage of it.  We don't know for sure because Drake is the top 24 jumpers, but it looks as though she had a pretty good jump for herself and that might work out well for her."
Shot putter Erica Beier was the other Tiger to set a personal record Monday, as she claimed second in the event with a throw of 34'10".
For full results from the ADM girls' track meet at DC-G, visit the sports tab on our website at RaccoonValleyRadio.com.