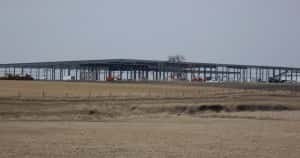 If you drive to the City of Paton and look north, you will see a new development.
Vaughn Bauer, owner of Bauer Built Manufacturing began building his new 170,000-square foot facility in December.  After he sold parts of his business to Deere and Company last fall, including the current 320,000-square foot facility, he says he wants to continue to manufacture planters for John Deere.
"We'll still be working with John Deere dealership group just like we've always have.  Business will be the same as it always has been except for we won't be the high volume stuff like we're normally accustom to."
He points out that at his old location, they used to turn out 300-plus planters per year, now he can focus on building half that amount with half the working space.
Even though his new location is smaller, Bauer adds that he will employ about 50-60 news jobs which he says he's excited about because he's happy to give people jobs to help the local economy.
He anticipates starting his new business later this fall.