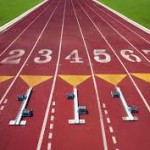 As we noted yesterday, the ADM girls track team has a busy schedule next week… I mean really busy.
Head coach Bart Mueller will send his athletes to four different meets over the course of the week, but he fully believes they're capable of handling the rigors of such an itinerary, which might actually be easier than it sounds.
"It seems crazy… I know any coach that would put four meets in in one week would have be crazy, but the reason I do it is because we won't have the same girls running all four nights.  We'll mix JV, Varsity.  I know I have a soccer match conflict Monday night, so we won't have our whole team every night because the girls would be wiped out by Friday if they ran all four meets hard."
Coach Mueller says he will utilize his strongest varsity squad for one meet in particular though, and it happens to take place in Adel.
"We'll sprinkle girls in here and there, but in our home meet, we want to have everybody run to let their parents see them… so we'll probably run a full team on Tuesday."
Tuesday's meet is the Hugh Norman Coed Relays at the ADM track.  Teams competing against the Tigers are Carlisle, Winterset, Clarke of Osceola and Van Meter.
Runners take off at 4:30 that evening.