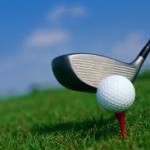 The ADM girls golf team hits the links today for its first tournament of the season.
While conditions weren't great for golf the past few days, head coach Cris Goodale did have his boys and girls' teams practice outdoors all week, and he calls finally being outside "a relief."
"(You) can see some of the little flaws you couldn't see in inside.  We were able to teach them some of the basics of what they need to be looking for in making smart, intelligent decisions on the golf course.  They should be good to go."
With the Tiger girls' about to hit their first tee-shots of 2014 competition today, Coach Goodale explains what advice he'll give his players before they hit the course.
"Don't get too excited about one shot, don't let one shot kill your whole round–it shouldn't carry over.  Do your best… have fun."
Now such words sound like fruitful advice, but Coach Goodale admits that teaching his players shot-by-shot patience is much easier said than done.
"It's tough to get it to stick nowadays because their attention span is so short, but I just keep going over it and over it.  I talk to them after a meet when they've blown up and I say, 'you know, if you hadn't let that carry on… it was just one hole'.  You've got to let it go, and I understand because I'm competitive too, but you've got to let it go."
With the ADM girls getting their season underway today, the boys will soon open up their 2014 schedule.  Both teams, in fact, play in dual meets against Woodward-Granger this coming Thursday.