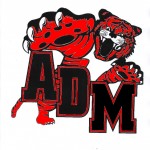 The ADM boys golf team finished second in its Raccoon River Conference meet yesterday, though the Tigers shot their best four-player 18-hole combined score of the season.
Coach Cris Goodale's squad shot a combined score of 321 at Terrace Hill Golf Club in Altoona, finishing just four strokes behind the conference champions from Ballard.
ADM actually tied with Winterset at 321, but won in a card-off with a 90 from its number five player.
Individually, the Tigers have the two best golfers in the conference.  Brody Boston finished as meet medalist, shooting an impressive 1-over par 72, while Joe Vest came in with a 75 to finish as runner-up.
Coach Goodale says he's proud of the way all his golfers battled the elements yesterday and found a way to stay focused throughout the round.  Play was halted after eight holes for almost two and a half hours due to a rain and lightning delay.
Next up for the ADM boys is their sectional competition on Friday at Atlantic.